Choosing which type of stained concrete is right for your home or business can be difficult. The good news is that there are many different types to choose from, so you're sure to find something that fits your needs!
For example, if you want the natural beauty of wood without the maintenance it requires, click here for more information on our prefinished wood look porcelain stains.
If you need help deciding what type of stain will work best for you and your project, read below to learn eleven tips about choosing stained concrete.
What are stained concrete floors, and how does it work?
Stained concrete floors are decorative concrete flooring applied indoors or outdoors and used for residential and commercial floors. It comes in colored cement added to traditional concrete, creating beautiful finished products with unique color combinations and designs.
The way it works is quite simple: typically, you will first need an application activity such as polish, sealer, acid wash, or other processes depending on your needs before applying the actual stained concrete mix onto your surface after cleaning it off from dirt particles.
Afterward, make sure to allow time for curing so as not to exceed maximum humidity levels during this period. Doing so may result in premature chipping or peeling away from surfaces later down the line.
Stained concrete floors are one of the most popular staining processes seen in homes and buildings across Dallas and surrounding areas. The reason why it's so widespread is that it provides a very durable finish that requires little to no maintenance for years to come. Plus, with modern technology comes new colors and styles that make staining concrete floors an ideal choice!
What are the advantages of concrete staining over regular flooring?
Concrete by itself is already an excellent choice for flooring, but with decorative stains, you can make it look even more appealing. Stains will improve not only the way your concrete floor looks but also its durability and resistance to stains from spills or dirt, making them great for home use as well as commercial spaces.
Below are the advantages of stained concrete over regular floors:
It is a more durable type of flooring.
Stains can create patterns on the surface of your concrete floors, making them look unique and attractive.
Colors from stains are deep, rich, and bold, helping you bring out the character in any space they're applied to.
This material will help protect against scratches and scuffs.
Stains will prevent the absorption of dirt, grime, and liquids, making them easy to clean.
Concrete stained with stains is resistant to high levels of foot traffic, making it an excellent choice for commercial spaces.
Decorative stains can create patterns on concrete surfaces, making them unique and attractive.
Colors from stains are deep, rich, and bold, helping to bring out the character in any space.
Stains will prevent against absorption of dirt, grime, and liquids
Concrete stains are resistant to high levels of foot traffic, making them an excellent choice for commercial spaces.
What are the things to consider to help with your stained concrete decision?
Now you know what concrete staining is and its advantages, let's discuss what will help you decide on your staining project.
The type of stained concrete that best meets your needs
These are the popular concrete stains to consider for your business or home.
Number one is the color stain. This creates a solid, single color and can be used to create or enhance designs on concrete floors that need protection from wear and tear like: warehouses, retail stores, garages, etc.
The second type of stained concrete is acid staining which adds an antiquated look by creating shade variations; it also enhances color and makes the appearance of grout lines between tiles. Acid stains are a popular choice for new or old concrete floors that need protection from wear, tear, and cracking like: garages, driveways, basements, etc.
The third type of stain you can use on your concrete flooring project is water-based staining, a popular choice for new or old concrete floors. These stains are easy to clean and can be used in hot summers, cold winters, dry climates, etc. It's also an environmentally friendly product with low VOCs (volatile organic compounds), making it safe for the environment and you!
The fourth type of concrete stain you can use on your floors is oil-based, a popular choice for new or existing old concrete. This method creates uniform color with a rich, uniform appearance that lasts longer than water-based products; it also has low VOCs (volatile organic compounds), making this stain safe for the environment and you.
The last type of concrete stain available for your flooring project is epoxy flooring which creates a high-gloss finish with excellent durability that can be used in any weather condition; it also has low VOCs (volatile organic compounds), making this stain. Safe for the environment and you!
What is your concrete floor area?
Keep in mind the size of the stained concrete area(s) to ensure you choose stains that are cost-effective and time-consuming enough so they can be appropriately applied while still saving money over time on maintenance costs since some colored stains aren't meant for use on the exterior surfaces due to their inability withstand harsh UV rays unless they're combined with an appropriate coating material first designed specifically for outdoor applications.
How long do you expect the color will last?
Suppose there are any areas on your property where stains don't typically remain looking new. In that case, it's essential to be honest about this before choosing a stain type because some stains can fade quickly in direct sunlight while others have excellent resistance to fading and heat stress.
What type of floor surface do you have?
It's also essential to consider what surfaces you'll be staining if they already contain tiles or another form of paint since paints often fail over time, creating an unsightly mess that requires costly removal work by specialists who may damage your concrete surface if they're not careful.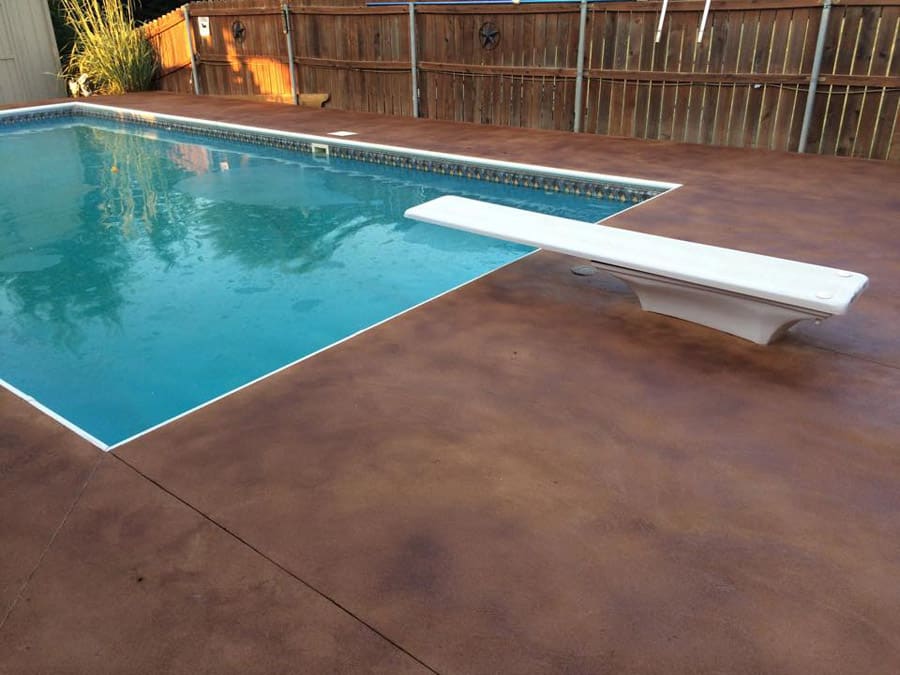 What is your preferred floor look?
The type of look you want and the durability that stains offer for each specific project or location on your property. Some projects require more protection than others, so research before deciding which is best for you. For example, stained interior floors may need less protection from damage because they aren't exposed to as much direct sunlight as exterior surfaces like pool decks and driveways are; however, outdoor stains must endure harsh UV rays over time which can deteriorate color appearance faster than stain colors used indoors.
How much foot traffic will the concrete floor take?
It would help to consider whether there will be any foot traffic in places where stains have been applied since high levels of foot traffic often create a smoother finish than areas without heavy foot traffic.
How will you maintain your concrete floor?
Stained concrete floors are easy to care for, but you must know what type of maintenance is required before choosing a stain since some need more cleaning than others, while others have excellent resistance to dirt and debris.
For example, porous concrete surfaces absorb stains differently. They may need more frequent spot cleaning with specific cleaners designed explicitly for stained concrete floors or countertops versus non-porous polished concrete, which absorb color quickly.
If there will be any potential high heat stress at the location where colored stains have been applied (such as direct sunlight), using UV resistant coloring materials can help your colors last longer without fading over time when exposed to harsh sun rays, especially in areas like pool decks or patios that get lots of sun exposure.
How will you maintain your concrete floor?
Some stains have a matte finish, while others have a semi-gloss or high gloss appearance. However, the type of finished look you want should be considered when choosing which specific stain to use. Some finishes like stained concrete with eco coating offer an extremely durable and low-maintenance glossy finish. In contrast, other types, such as waxed concrete floors, require more frequent touchups to maintain their original sheen.
Check areas for moisture levels
It's also vital that you consider whether there will be any areas where moisture levels are high (such as outdoor surfaces) versus interior spaces because certain colored stains may not hold well over time if they're applied on moist surfaces due to possible problems with adhesion and blistering issues caused by trapped water underneath staining materials.
What's your budget?
What type of budget do you have to work with since? Some stains are more expensive than others, and certain types may offer a more extended warranty period which further reduces the cost over time compared to stains that don't include service plans or guarantees.
Check for color selection
Finally, look at the overall color selection of each stain type so that you can pick a specific color scheme for your home or business depending on what types of decorative design elements (such as furniture, flooring materials, countertops found in kitchens and bathrooms, etc.) already exist inside your building space.
For example: if you're looking to match an existing concrete surface like polished concrete with colored stained floors; however, there is wood trim throughout the entire interior, then it may not be possible unless matching colors within the same family, such as lighter tones versus darker ones would help blend stained surfaces into surroundings better without creating an uncomfortable color clash.
Go with stained concrete professionals
Once you've decided what type, design, and color your decorative concrete project, you need to get the right stained concrete contractor.
Tips for hiring a stained concrete contractor
Do a Google search
Do a Google search on "stained concrete contractors near me" and look at the top companies in your area.
Ask family and friends.
Ask family, friends, neighbors, co-workers, or even local businesses who they use to stain their sidewalks/driveway/porches, etc. most of them will have a recommendation for a good company.
Ask the contractor you are considering if they have any references that can tell you about their work. You should be able to find at least two or three happy customers who will refer them, even if it is just on social media like Facebook!
Check reviews and testimonials.
Do not hire anyone without checking out reviews and testimonials about their services and their flooring options. If you notice any negative reviews, contact them to ask why they are not happy with the stained concrete contractor's work and if anything can be done to fix it. Remember, do not hire anyone without checking on reviews! Even one bad review should make you reconsider hiring this business.
You may also want to check with the Better Business Bureau to see if they have any complaints.
Call different Dallas companies to compare.
Once you've found your perfect color, design, type, sealing, etc., call up two or three companies in your area that can do the job. Tell them what you want and ask for an estimate – this should include everything, color/materials included.
Be prepared by having your colors picked out ahead of time to be matched precisely as close as possible! This will help keep costs down if there is a big difference in price between contractors.
Get everything in writing.
Be sure to get in writing how much it will cost, the exact type of material used (concrete stain vs. acid stain, etc.), and when they think your project can be completed. You want all this information before you hire them! If something changes or you cannot complete the job on time, make sure everything is written in the contract.
Ask if they have their equipment.
Be sure to ask if they have their decorative concrete equipment or if they hire a subcontractor for this part of your project. If not, find out how long it will take them to get you that estimate and who can do it immediately! You want everything done quickly, so stay on top of them every step of the way.
Make sure they can do the colors you want.
Keep in mind that some decorative concrete contractors may not be able to match your exact color due to different computer monitors, lighting, etc., but they should try their best! If you are unhappy with any of the colors or types shown on samples or brought out by them, let them know right away so they can work with you to find something you will be happy with.
Ask for a walkthrough.
Once the concrete floors are complete, make sure you get a walkthrough from your decorative concrete contractor to see precisely what was done and that you are satisfied with it! This way, there can be no misunderstandings about any parts of the job that were not completed or were damaged somehow, so everyone's on the same page.
Take pictures for documentation.
Once you've hired a staining concrete contractor and completed everything, take many pictures to document the finished product! You never know when they might need these for their website or advertising material etc., so it's always good to have them on hand just in case! Even if this company goes out of business, you will still have proof of your concrete floors projects.
Conclusion
The right type of stained concrete can make your home or business look more beautiful while increasing the value of your residential and commercial properties. However, it's essential to take time to consider which style is best for you.
Some are better suited for commercial buildings, others are perfect for businesses that require a lot of foot traffic, and still, other styles will be great in residential homes.
We want to help you find the ideal type of stain color with our helpful guide below! Let us know if we can answer any questions about DFW Stained Concrete installations pricing before making your final decision–we offer competitive rates for specific designs.
Call us now for a free quote!