DFW STAINED CONCRETE OF DALLAS
Dallas-Fort Worth Concrete Staining Specialist
Stained Concrete Dallas-Fort Worth, TX
Concrete: it's durable, dependable, and the baseline of just about any kind of solid construction project.  It's a solid material, but for many people, it might not be the flooring of choice. If you imagine a concrete floor, then you might be imagining a solid gray slab with no features and nothing stylish about it. That means you clearly haven't worked with a dependable decorative concrete company! Stained concrete flooring is a stylish and economical choice for any residential and commercial property. It's low-maintenance and can be trusted for years on end. If you're looking for stained concrete Dallas TX residents can trust, then look no further than us.
At DFW Stained Concrete of Dallas, we are a team of experienced professionals who make it our top priority to serve you with the very best results for colorful and personable concrete floors. With a track record of success in concrete staining, polishing, and resurfacing, we are the best team to call for all your decorative concrete needs to stain concrete with concrete dye.
Perfect for both indoor and outdoor surfaces.
Stained and polished concrete floors repurpose your existing concrete slab into a unique work of art. This durable flooring is a "Green" eco-friendly solution that is both modern and durable. More affordable than wood and most tile, stained and polished concrete floors last for decades with minimal maintenance. 
Give your home a unique curb appeal by staining your concrete driveway. With shades of browns or other earthy tones, your decorative concrete driveway and sidewalk will the talk of the neighborhood. We can stain and seal your concrete driveway in a single day, and the effect will last years.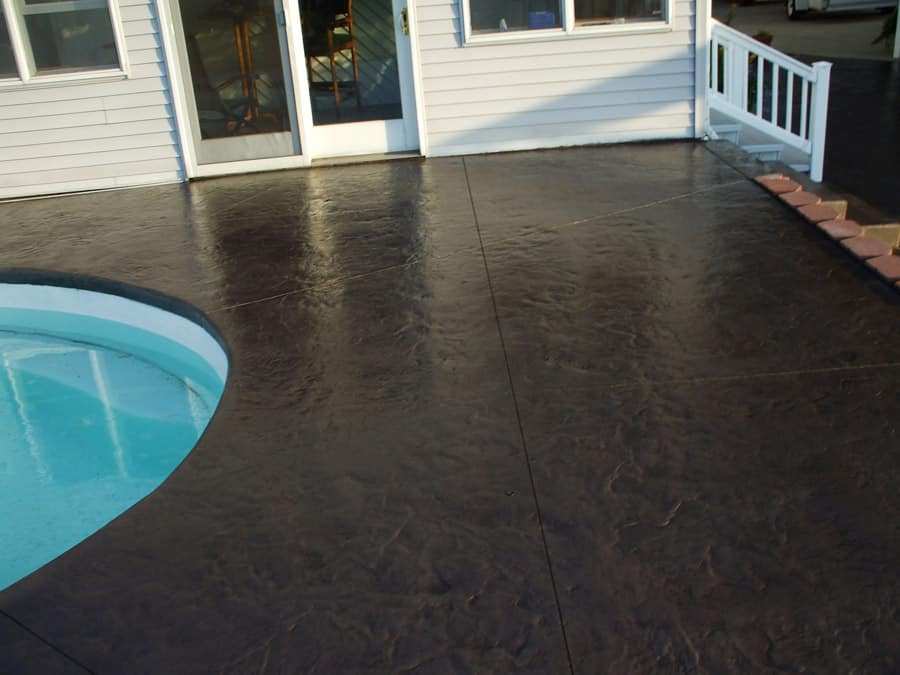 Stained Concrete Pool Deck
Nearly all concrete surfaces look better with decorative enhancements. Want to turn your grey pool deck into a work of art? We can add textures, multiple colors, and designs to bring your pool deck to life. Stained concrete lasts for years, and we are able to refresh the existing concrete or add a concrete coating without replacing concrete.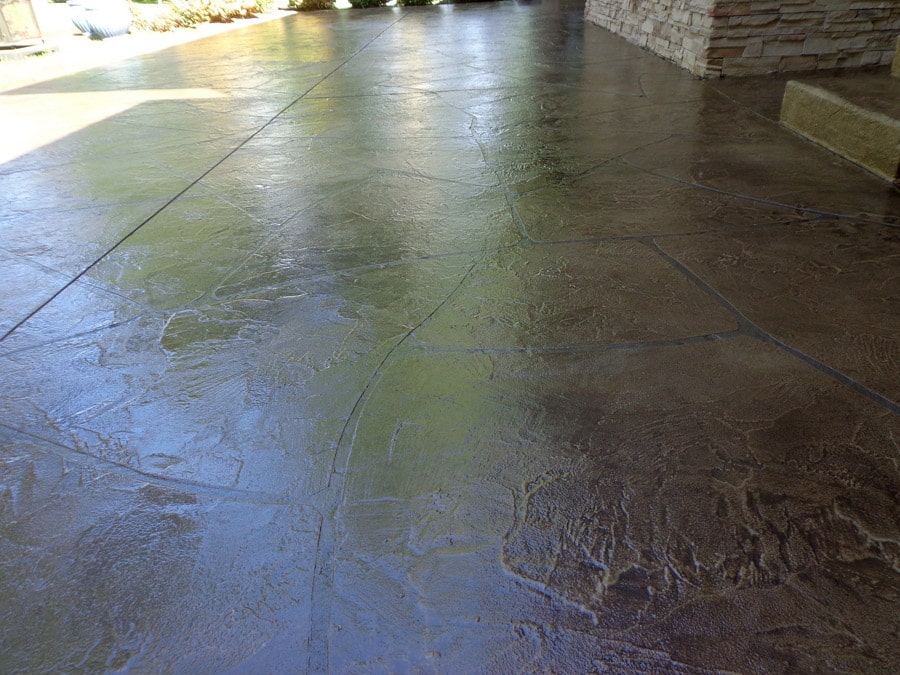 Concrete stains are perfect for outdoor surfaces, and your concrete patio is no exception. With a variety of colors and textures, we can make your concrete look like stone, brick, or tile. Durable and affordable, save money by resurfacing with our professional team. 
We have a lifelong passion for decorative concrete and we bring years of experience and expertise to providing the most dependable stained concrete floors for your home or business's concrete slab. If you need quality decorative concrete you can trust, then give us a call for a free quote and to learn about our services today. 
Concrete Staining Process
How do we take boring old slabs of concrete floor and make them shine with the color or pattern of your choice? We follow a dynamic step-by-step process that guides us to produce the very best stained concrete floors in the Dallas, TX and Fort Worth area. While we tailor our work for each project, we follow these steps for most acid stained concrete jobs: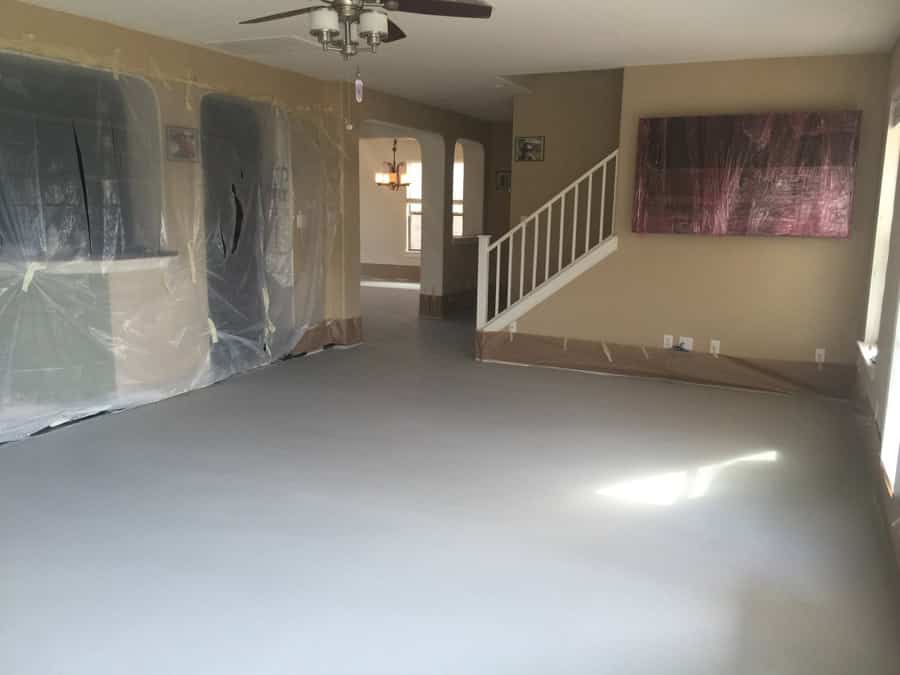 Polished Concrete Dallas-Fort Worth
For years, DFW Stained Concrete of Dallas has established a name as the DFW Metroplex's concrete flooring business. We're up for any job when it comes to staining concrete. Our services are just as versatile as concrete itself: whether you need assistance repairing your driveway, resurfacing your patio deck, refining your pool deck, or polishing beautiful concrete floors in your kitchen, our contractors are ready and available for any task. 
Polishing and acid staining your concrete is an excellent choice from a practical and aesthetic perspective. Not only will it make your flooring look more attractive than ever, but it will also make the surface more enduring and sustainable for years to come. Stained concrete floors can prevent damages and even have a lower risk of slipping, which can make your property safer overall. If you're looking to make your property safer or your business more attractive, then the answer is clear: decorative concrete is the way to go.
Whether you own a home or a business, staining concrete is a smart decision any property owner should make. Commercial and residential estates can benefit from the saved costs, enhanced durability, increased safety, and flexible styles that come with using concrete floors. When you work with a trusted name like DFW Stained Concrete of Dallas, you can rest assured that your project will be performed with the best possible results.   
Polished Concrete Process
At DFW Stained Concrete, we have developed a thorough, systematic process for the way we polish floors before concrete staining. While we are always sure to customize our care according to the specific needs of each client to ensure the best results, our concrete polishing procedures usually contain the same general steps. They include the following: 
We need to start the project with a clean slate, so we remove any and all materials from the surface of the floor in our first step. That includes everything from paint to epoxy to sealants and even carpet in some cases. 
Our next step is to take diamonds that have been bonded in a metallic matrix and use them to start smoothing the concrete surface. The diamonds are sharp enough to remove most blemishes or protrusions and leave the concrete floor looking smooth afterward. This process may need to be repeated depending on the intensity of the project.  
The surface of your concrete needs to be hardened, so we apply densifiers that make your concrete ready for polishing. In the process, densification can prevent chipping and cracking. 
We apply grouting chemicals to help and fill any cracks that might be leftover from the previous parts of the process. 
Next, we polish the concrete repeatedly with finer resin bonded diamonds until it has achieved your desired level of shine. 
Once the polishing is complete, then we are ready to perform concrete staining or dying if so desired.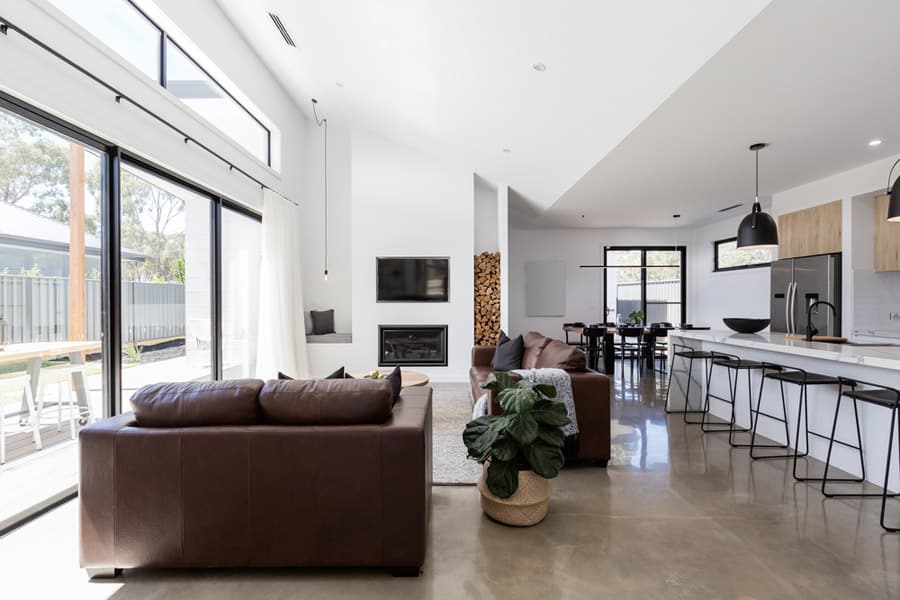 Benefits of Concrete Floors
With so many different kinds of flooring options out there, why would you want to choose concrete? There are actually numerous benefits to using concrete floors versus other options. Here are just a few of them. 
How long does it take to stain concrete?
We work hard to complete every stained concrete project as quickly and efficiently as possible. However, jobs may take longer if we need to apply multiple coats of stains.
What is the most cost-effective option for flooring?
Working with a team of decorative concrete contractors for stained concrete is a great way to invest in stylish and attractive flooring without spending too much. 
What regions do you serve?
At DFW Stained Concrete of Dallas, we work with customers all throughout every community in the DFW Metroplex including Dallas, Fort Worth, Arlington, Plano, Mansfield, Irving, Garland and Beyond! 
What kind of clients do you work with?
We can work with homes and businesses on all their decorative concrete projects in Dallas and the surrounding areas. Both residential and commercial concrete flooring are our specialties.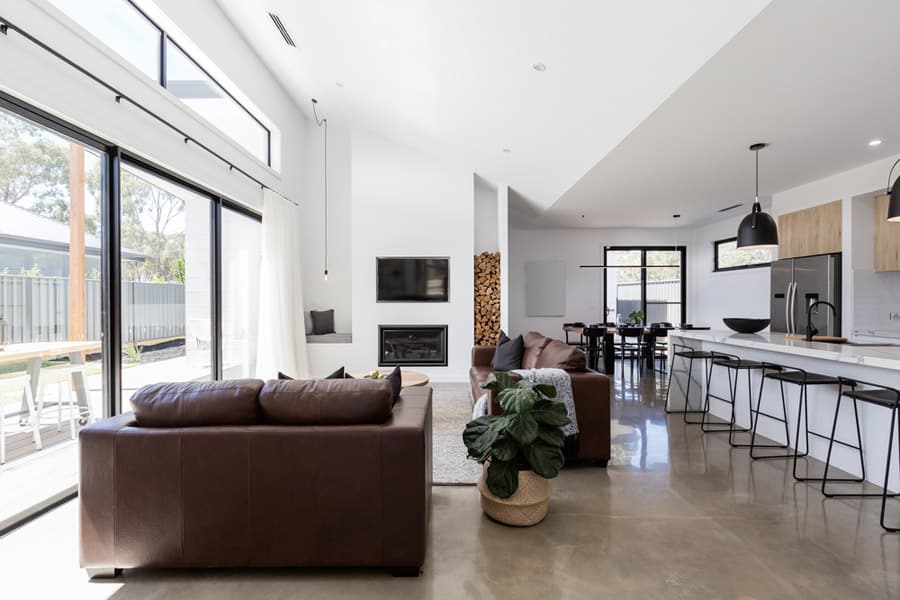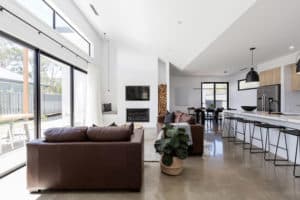 Polished Concrete
Polished concrete is a popular flooring material in many homes. It can be used on any surface, including driveways, patios, and sidewalks. Polished concrete surfaces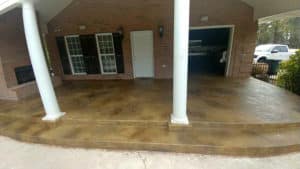 Stained Concrete
Concrete is a sturdy material that can last for years if properly taken care of. It is also one of the most popular surfaces to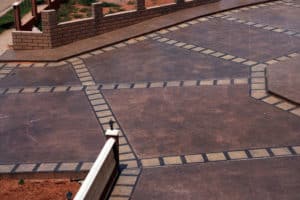 Stained Concrete
Choosing which type of stained concrete is right for your home or business can be difficult. The good news is that there are many different
Why Choose DFW Stained Concrete of Dallas
There are plenty of concrete companies in the area that can serve your needs. However, if you want the best results for your business, then you should only turn to a company that you can trust. At DFW Stained Concrete of Dallas, we have assembled the best team of professionals in the field who can provide a concrete stain you can trust. When it comes to acid staining concrete, no one can beat the value that we provide for our customers.
We have a lifelong passion for decorative concrete and we bring years of experience and expertise to providing the most dependable stained concrete floors for your home or business's concrete slab. If you need quality decorative concrete you can trust, then give us a call for a free quote and to learn about our services today.