Concrete Pool Decks Dallas-Fort Worth
Looking for some fun in the sun without breaking the bank on a deck for your pool? Then a concrete pool deck is exactly what you've been waiting for. Concrete is one of the very best building materials for creating any kind of patio or deck, and thanks to its versatility and durability, it's an ideal match for all the messes and traffic that come with pool decks. No matter how much water splashes onto its surface or how many pool parties you host, you can count on your concrete pool deck to serve you and your family for years!
Maybe you think that concrete is necessarily a drab, gray, or boring material, making it a less than ideal match for your pool deck. That simply isn't the case! With the power of modern techniques like concrete staining, your pool deck can take on a vast range of styles and patterns to perfectly reflect the design you want. Perhaps the very best thing about using concrete for your pool deck is the sheer amount of money you'll save in the process. Compared to other materials, concrete consistently comes out as the most affordable option for any kind of flooring in terms of its cost per square foot. Of course, its affordability doesn't sacrifice quality or style, either. 
We have a lifelong passion for decorative concrete and we bring years of experience and expertise to providing the most dependable stained concrete floors for your home or business's concrete slab. If you need quality decorative concrete you can trust, then give us a call for a free quote and to learn about our services today.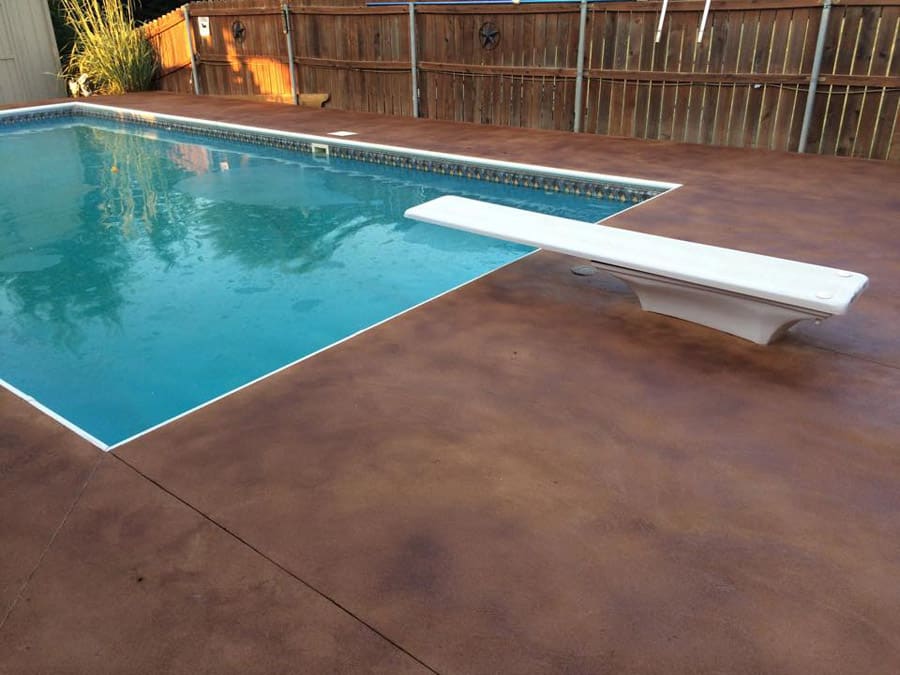 Decorative Concrete Pool Deck
Your options are limitless if you want to explore using acid stained concrete for your pool deck. Regardless of what kind of house you own, whether it's modern or traditional, your concrete can be stained or colored to perfectly complement it.
Even if you dislike the current color of your deck, then you'll be glad to hear that the refinishing process can be simple and stress-free. Simply contact a concrete contractor who can explain your options and help identify opportunities for improvement, and you'll be ready to go.
Resurfacing your pool deck means adding a new kind of surface to your existing deck such as dyed concrete. It's the ideal option if you think your deck needs a new coat of paint or if you want to reinforce your structure with improved stability or safety.
There are plenty of reasons to consider getting your pool deck resurfaced. It can improve your deck's sun resistance, allow it to last longer than otherwise, and even reduce the chance of slipping on it – all of which can improve safety. 
If you're considering investing in stained concrete pool decks, then you need to work with a professional team to ensure that you receive nothing short of the very best service in the DFW Metroplex. If you're based in Fort Worth, Texas or the surrounding communities, then DFW Stained Concrete is ready and available to assist you with the area's top-rated procedures for concrete care. 
Our licensed and insured contractors are deeply experienced in concrete work and equipped to handle any job with committed professionalism and a dedication to helping you enjoy the benefits of a stained concrete pool deck. Contact us today to see our work in action!